EXCEPTIONAL POWER COMPACT & EASY
No limits
If your device can be powered from a wall socket, it can be powered with instagrid.
Plug and play
No cables, no hassle. Just plug in your tool and get work done.
Truly portable
Nothing this powerful has ever been so compact and lightweight.
Working off-grid
has never been so easy
POWER YOUR ENTIRE WORKDAY
Long runtime
With 2.1 kWh, instagrid ONE max delivers the most energy in a portable format.
See what you can get done with one charge 
Industrial vacuum cleaner 1 200 W
~ 105 min runtime
Jackhammer 2 200W
~ 7.5 tons of concrete slabs (150mm) demolished
Diamond core drill 3 300 W
~ 32 holes (150mm deep, Ø 150 mmdrill) in concrete
Arc welding machine + power
up to 89 electrodes
2 group espresso machine 2 800 W
~ 120 espresso cups brewed
Professional filter coffee machine 2 310 W
~ 160 coffee cups brewed
Food truck
~ 4 hours (freezer, espresso machine, lights)
Ice-cream freezer (Liebherr 1 kWt)
~ 2 days
Arri Skypanel LED Soft Light 420 W (sky panel)
~ 5 hours (full brightness)
LED Light (Aputure LS 600D Pro)
~ 6-8 hours (depending on the brightness)
PA system – LUCAS 2K15
~ 16 hours
Telescopic camera crane 1 800 W
~ 2-4 hours with peak of 1 800 W and 30 % usage per day
Powering a specific device? Send us the details and we'll send you an estimate of the runtime.
*By leaving your email address you subscribe to our monthly newsletter
DESIGNED FOR PROFESSIONALS
Robust and efficient
Work under any conditions with instagrid's water and dust resistant system
CREATE AN OUTSTANDING EXPERIENCE FOR YOUR CUSTOMERS
instagrid ONE max is completely silent and has zero toxic fumes
2.5 hours
Short on time? You can charge the instagrid system even in the middle of your workday
18 000 Watt peak
With the instagrid system you can power your most demanding devices up to 18 000 W peak
3 600 Watt continuous
Power your tools with 3 600 W pure sine from fine electronics to welding
20kg
Nothing this powerful has ever come in this size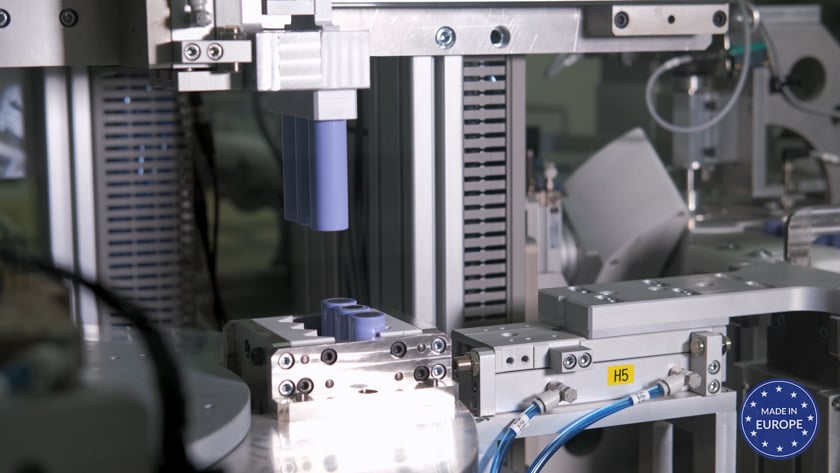 ENGINEERED AND DESIGNED IN GERMANY
instagrid portable power system is precision manufactured to meet the highest quality standards
RAISING THE BAR ON SAFETY
No grounding required
instagrid power system is designed according to IEC protection class II
No tripping hazards
Reduce cabling
No toxic fumes
Create a healthier work environment, work indoors and in closed spaces
WINNER OF THE GERMAN DESIGN AWARD 2022
REACH YOUR SUSTAINABILITY GOALS
CATERING
``We power our entire ice-cream truck with the instagrid battery: freezer, coffee machine and lights``
- Ape Gelato
CONSTRUCTION
``With instagrid, we can work with our construction tools without the need for long cables, or emissions from a generator``
- TDL GmbH
FILM
``Powering professional film equipment is very energy-intensive: we were happily surprised about the capacity of instagrid. We were able to power all our devices in silence``
- Valofirma Oy
| | | | |
| --- | --- | --- | --- |
| ELECTRIC | | PHYSICAL | |
| Output voltage | 230 V (AC) / 50 Hz | Weight | 20 kg |
| Rated output power | 3 600 W (16A) | Dimensions | 420x210x420mm |
| Available energy | 2.1 kWh | Outer case | Recycled aluminium |
| Charge duration | < 3h up to 100% | | |
| Rated power | 500-1 000 W (4A) | | |
| On (idle) | 150 h | | |
| Storage | > 3 years (switch in "off" or "transport" mode) | | |
| Output socket | CEE 7/3 Socket (16A) | | |
| Power outlet | Neutrik powerCON TRUE1 | | |
| | | | |
| --- | --- | --- | --- |
| PEAK POWER | | ENVIRONMENT | |
| 150% boost (>500 sec) | 5 400 W (24A) | IP class | IP54+ |
| 200% boost (>100 sec) | 7 200 W (32A) | Noise emissions | < 10 dB(A) |
| 250% boost (>25 sec) | 9 000 W (40A) | | |
| Peak power | 18 000 W (80A) | | |
| | | | |
| --- | --- | --- | --- |
| TEMPERATURE | | | |
| Discharging operating temperature | -20°C up to 60°C | | |
| Charging operating temperature | 0°C up to 45°C | | |
| | |
| --- | --- |
| ELECTRIC | |
| Output voltage | 230 V (AC) / 50 Hz |
| Rated output power | 3 600 W (16A) |
| Available energy | 2.1 kWh |
| Charge duration | < 3h up to 100% |
| Rated power | 500-1 000 W (4A) |
| On (idle) | 150 h |
| Storage | > 3 years (switch in "off" or "transport" mode) |
| Output socket | CEE 7/3 Socket (16A) |
| Power outlet | Neutrik powerCON TRUE1 |
| | |
| --- | --- |
| PHYSICAL | |
| Weight | 20 kg |
| Dimensions | 420x210x420mm |
| Outer case | Recycled aluminium |
| | |
| --- | --- |
| PEAK POWER | |
| 150% boost (>500 sec) | 5 400 W (24A) |
| 200% boost (>100 sec) | 7 200 W (32A) |
| 250% boost (>25 sec) | 9 000 W (40A) |
| Peak power | 18 000 W (80A) |
| | |
| --- | --- |
| ENVIRONMENT | |
| IP class | IP54+ |
| Noise emissions | < 10 dB(A) |
| | | | |
| --- | --- | --- | --- |
| TEMPERATURE | | | |
| Discharging operating temperature | -20°C up to 60°C | | |
| Charging operating temperature | 0°C up to 45°C | | |